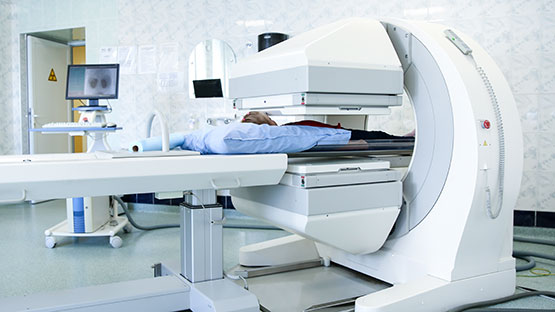 Program Overview
Nuclear Medicine Technology is the injection or oral administration of radioactive materials into the human body that are detected by an imaging device known as a gamma camera. A scan of the distribution of the radiotracer within an organ in the body is then produced.
A Nuclear Medicine Technologist prepares and administers the tracer radiopharmaceuticals to the patients and records the images using computerized detection systems. Nuclear Medicine Technologists are employed in hospitals, outpatient diagnostic imaging centers, and private physician offices.
Estimated Cost
Program Details
The A.S. degree is designed for students who are looking for immediate entry into a career upon graduation. Most discipline courses directly relate to the identified career area. The remaining courses are comprised of general education courses.
Students begin the discipline courses of the Nuclear Medicine Technology program in Fall term of each year. A total of 75 credits must be completed for this degree. Course content is sequential, and students must plan to enroll in all NMT courses in the order and during the terms indicated on the courses outline. The program currently selects 15 candidates per year to continue to discipline courses. Coursework includes:
Radiation Protection
Radiation Procedures
Nuclear Medicine Physics
Nuclear Medicine Pharmacology
Nuclear Medicine Instrumentation
Career Prospects
Our graduates can be found in every major medical organization in Miami Dade County, as technologist, Imaging Supervisors, lead technologists, and Directors of Imaging. Students who pursue this course of study may find employment in job roles such as:
Nuclear Medicine Technologist
Radiologic Technologist
Sonography
Computer Tomography
Program Location